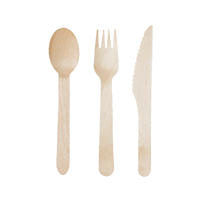 Disposable Wooden Cutlery
Made from food-grade thin birch wood, ideal to replace single-use plastic cutlery at events or for food takeaways. Entirely biodegradable and compostable. To compost it at your home composting facility, chop the cutlery into smaller pieces before placing it in the composting bin.
You can customize the wooden cutlery with your own branding for certain order quantity.
The cutlery can be stored for up to two years. Store in a dry place with mild temperature (approx. 25°C) to keep it away from molds.
Certification:
Food and Drug Administration (FDA)
For enquiry regarding price, minimum order quantity and branding, please go to the following link.