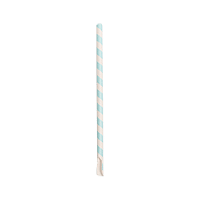 Paper Straw
Our paper straw is made from FSC certified paper.
The straw will stay in its best form even after one hour of usage. Recommended for beverages with temperature below 50°C. To keep the paper straw in its best form, store in a dry place with mild temperature (approx. 25°C).
The straw comes in different colours and sizes to accommodate your specific needs. The ink used for the straw is food grade, therefore safe for the body and environment.
Certification:
Forest Stewardship Council (FSC)