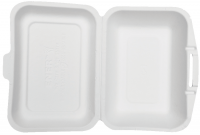 Sugarcane Food Container
Composed of sugarcane bagasse (fiber), free from any plastic components and toxic chemicals. The food container is completely biodegradable in 180 days in nature.
Ideal to hold both hot and cold, dry and liquid food items. Microw mb-5ace and fridge safe and has two years of shelf life if stored properly in dry place with mild temperature (approx. 25°C).
Certifications:
US FDA
Biodegradable Products Institute (BPI)
Societe General de Surveillance (SGS)
ISO 9001:2015
For enquiry regarding price, minimum order quantity and branding, please go to the following link.